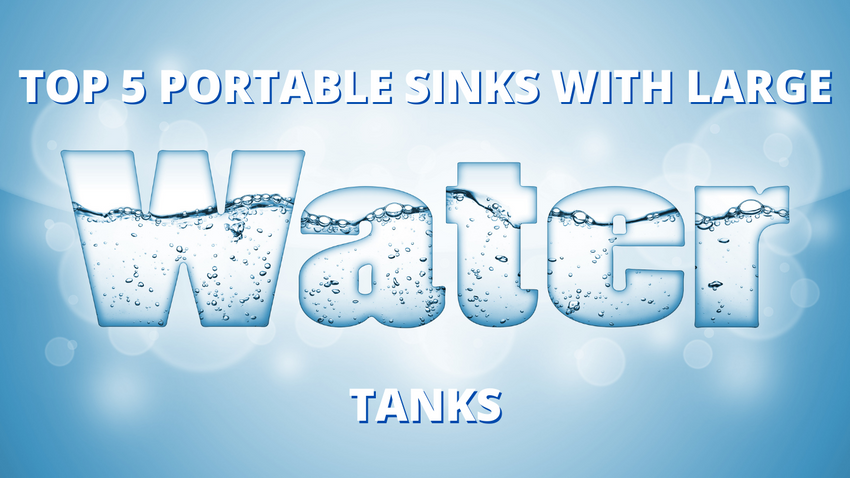 4 Portable Sinks With the Largest Water Tanks
Portable sinks make handwashing convenient and comfortable when you're away from home. These sinks operate with water tanks, including a freshwater tank that pumps fresh water through the sink and a wastewater tank that holds used water. Most portable sinks feature a 5-gallon freshwater tank and a 5-7 gallon wastewater tank. This helps the sink move to different locations more freely. However, if your priority is to have fewer trips to refill and dump water tanks, then a portable sink with large water tanks is the solution.
Below we've listed five portable sinks with the largest water tanks we offer at All Portable Sinks. These are a combination of indoor and outdoor sinks, with both hot and cold water capability. There's a large capacity portable sink for any type of event or facility! 
This Crown Verity sink offers many convenient features to make handwashing more efficient. Inside this portable sink are two 5-gallon freshwater tanks and two 7.5-gallon wastewater tanks. You'll spend less time refreshing tanks in this Crown Verity portable sink! Even with the 10-gallon capacity, this sink is still compact and mobile to place where you need it.
Additionally, you can use this sink indoors and outdoors, and it comes with a soap dispenser and paper towel dispenser. This sink also features eight different configurations, including multiple basins, hot & cold water, and cold water only. Finally, the stainless steel construction makes this a durable sink no matter where you use it. 
The Monsam Portable Handwashing and Sanitizing Station is your all-in-one station for hygiene. This sink has everything you need for proper handwashing and sanitizing, including a soap dispenser, trash can, paper towel dispenser, hand sanitizer holder, glove holder, and a hot and cold water sink. Inside the sink cabinet are a 6-gallon fresh water tank and a 7-gallon wastewater tank. The large water tanks make this portable sink even more convenient. 
This is an ideal sink for medical facilities or anywhere extra hygiene is important. In fact, the countertop on this sink is antibacterial, and the deep basin makes it easy for effective handwashing. If you're looking for a large water tank portable sink that has it all, consider the Monsam Portable Handwashing and Sanitizing Station.
This Monsam portable sink features a simple design that makes it easy to use in areas with limited space. That doesn't take away from this sink's effectiveness, though! The 6-gallon freshwater and 7-gallon wastewater tanks make this an ideal sink for high-traffic functions or when you prefer less sink maintenance. In addition, this sink offers hot and cold water with an adjustable heater to ensure the water is the exact temperature you need it. The Monsam Streamlined Portable Handwashing Sink has all the essentials for handwashing at your indoor or outdoor event, and the large water tanks make it extra convenient. 
This Crown Verity sink is another ideal option for a portable sink with large water tanks. It has a 15-gallon freshwater tank capacity and 19-gallon wastewater tank capacity, which adds up to about 300 uses on a single tank fill-up! In addition, this sink is designed and constructed to hold up well outdoors but can also be used indoors. Even with the incredible tank capacity, the Crown Verity Touchless Portable Economy Handwashing Sink has a slim design and heavy-duty wheels, making it easy to store and transport. 
You operate this sink by a foot pump, so it reduces the number of touchpoints on this portable sink. In addition, you'll find a paper towel dispenser and soap dispenser included on this sink's backsplash. With all of these sink features, it's easy to see why this is an excellent choice for your outdoor event or facility!
At All Portable Sinks, we aim to help you provide a clean and safe environment through simple and convenient portable sinks. These five portable sinks with large water tanks offer that to your guests while making it easy for your staff to maintain with fewer tank fill-ups. Contact us today with any questions or learn more about adding a portable sink to your facility or event.